Be excited it's time !!!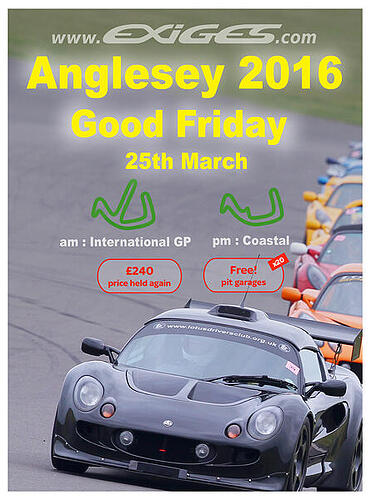 We're keeping pretty much exactly the same formula that's proven so successful in previous years. Bookatrack will run the day, it will be at Anglesey on Good Friday, full circuit in the morning and the fantastic Coastal in the afternoon. Once again we've even managed to hold the price.
As has been noticed, BAT will be at Spa over Easter weekend. I discussed it with Jonny and I felt it was more important to hold onto our traditional date/venue and thankfully he agreed to run the day as well as Spa. The one downside is that the R300s will be at Spa so there won't be any taster sessions this year or R300s for hire

There may be some other Caterham options nearer the date,…drop me a pm if you were thinking you or your dad/mate/son were thinking they'd like to hire a Caterham.
Free Garages : There's twenty free garages going begging - note that these were sold out within the first week or so last year. If you want a garage get busy…
Passengers Sign-On : Once again Jonny is generously going to donate 100% of the takings from Passenger Sign-On fees (£10) to a charity of our choosing.
Booking : On BaT's website you won't see the event unless your login ID is on the 'exiges' list. If you've attended the exiges day before, you're on the list. If you've not then pm me, or post on this thread (including your BaT login ID) and I'll get you added. There's 60 places, let's aim to fill them with all the regulars and some new faces too.
Be excited and get booking!!! The event sold out 6weeks prior last year so get in there to avoid disappointment.
This really is a THE trackday event of the year and many of us really look forward to it. New faces are always welcome and I guarantee you a great day. We always say it but if you only do one trackday next year; make it this one