This : Racecarsdirect.com - LOTUS EXIGE CUP R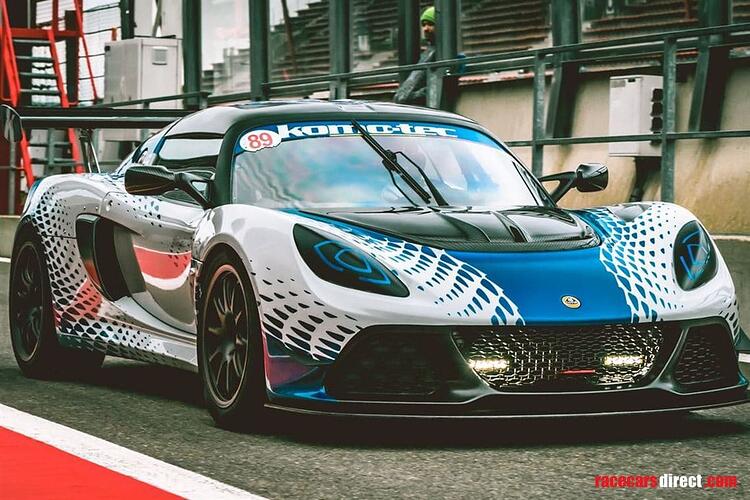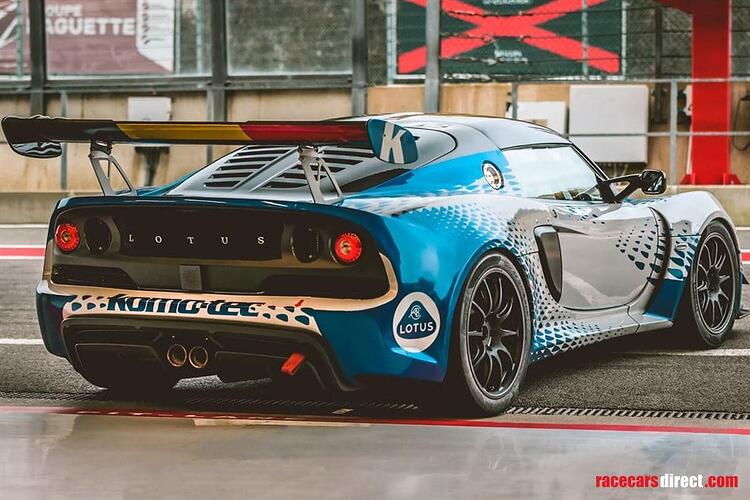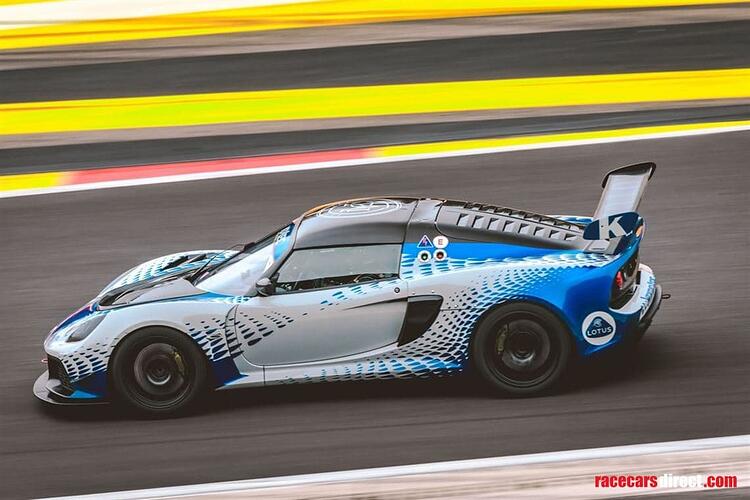 Lotus Exige Cup R, No. 109– Racecar
approx. 390hp at 7.200rpm
approx. 413Nm at 5.000rpm
Weight 08/2022 : 1.004 kgs with fluids and +/- 20 l of petrol, without driver.
Original Colour Carbon Grey – full covering in 2022
3.5l V6 Toyota Engine with Eaton 1320-Supercharger

08/2022:

New engine with forged rods and pistons, better valve spring and uprated valves

and heat resistant gasket between the supercharger and manifold

Driving belt renewed

Engine-Oil renewed

Mofification of Radiator-Angle for better cooling

Xtrac Sequential Gearbox, 6-speed

bigger sized Carbon-Paddles for shifting

08/2022:

Reconditioned Gearbox

oil radiator for the gearbox renewed

Clutch renewed

Transmission-Oil renewed

FIA 70ltr. Fuel Cell-Tank (expired) incl. Motorsport Fuel-Filler

FIA Rain-Light rear

FIA Carbon-Wing rear with Gurney-Flap

Lotus Cup R Frontsplitter

FIA Fire Extinguisher and Battery Switch-Off (internal and external)

FIA Driver Race Seat OMP Carbon Prototipo with 6pt-Harness (6.1kgs, expired)

FIA Passenger Race Seat Cup R with 4pt-Harness

Motorsport Roll-Cage

Modified Air Intake (both side scoops)

Komo-Tec KoBra 4-4 Brakediscs 343mm

AP 4-Pot-Calipers with PFC Brakepads

Front Brakes Cooling-System

08/2022:

Brake -Fluid renewed

Öhlins Suspension

Toelink-Upgrade rear

adjustable Rollbar front and rear

adjustable Traction-Control

08/2022:

New Geometry Alignment-Setting and weight per wheel adjustment

Carbon Front Access Panel

Carbon Hardtop Roof

Carbon Mirror Covers

Carbon Engine Cover with Aero-Catch

Carbon Door Panels inside

Lightweight Forged Wheels Komo-Tec incl. Wheel-Studs

Lightweight Bodyclam rear with Quick-Release fixations

Vents as cup 380 and Headlamp Blank on the front body

Polycarbonate Windscreen with tear off (Lexan)

AIM solo DL data logger

Camera Smartycam HD

Additional LED Lamps front

Komotec exhaust 90 mm with valve

Spare parts available additionally:

Additional standard set of wheels (2 sets, 1 with tropheo R, 1 with rain tyres )

Original Front Splitter Cup R

Original Front Access Panel

Original Glassfibre Body rear

Original Air filter

Lotus Motorsport Exhaust
£92500.
I am a little short of the asking at the mo.