What a day! My first time at Snetters and it certainly won't be my last, although it wasn't my Sprint's first foray there because it was the local track to former owner Will Curwen. I think the car must have have known it as the car took to it right away. I brought my 14 year old son as a passenger, the recent MSV age change from 16 to 14 has been extremely welcome to a car mad kid and so good to have him experiencing it with me.
Unfamiliar to it, I made sure I watched YouTube laps and the Driver61 guide along with playing on my son's driving rig with Assetto Corsa. It all helped make it at least not alien to me, as I knew which way the bends went.
Upon arrival I saw a couple of Lotus's so decided to park up by them, rude not to. It was another father/son combo, this time of driving age with his own, rather tidy blue Elige along with a lovely Elise that had been set up by Datum motorsport.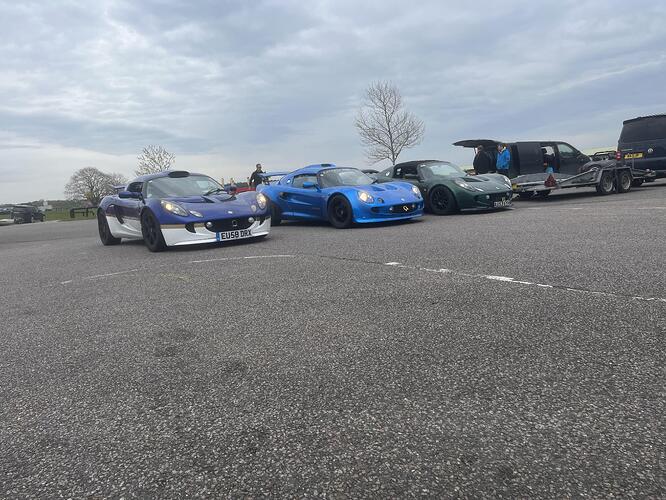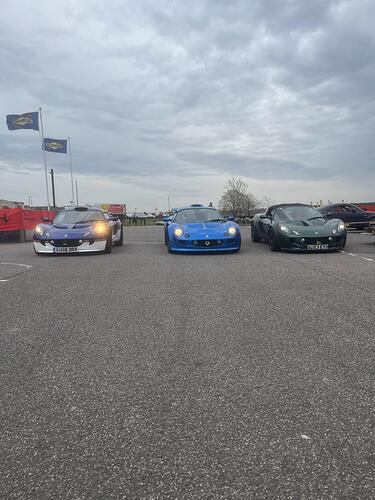 The guys were great and we both got to have a pax ride in the Elige, which was very well peddled and eye openingly quick. The last sequence from Brundle and through Corum were amazing! Those laps helped me redefine what was possible which translated in to me pushing harder safely next time out.
Video of…
Lap following green Elise
There were also some moments when we were out on track together having a play. Following their lines was useful learning in my vain attempts to keep up. Here are some video's of it.
I was keen to see how my car handled there. My blokeconomics investment in a set of Nitrons at the end of last year has been paying itself back through being used

Well that's my justification for them and the fact that my billies were on their way out, (honestly guv). It was the opportunity to play around with the settings.
At the start of the day they were at my road setting of 12 and 14 front to rear. As always I start slow and build through the day so the more progressive softer setting let me get a feel of what was going on and a bit more time to react if needed. Come lunch it was time to crank them up so added 4 clicks all round.
With the shocks being newish, it was the first time I'd had a play adjusting the settings. I immediately noticed the difference with a sense of compliant stiffness, there was a great sense of solidity and more feeling of the micro bumps in the road, which took about half a lap to adjust to that sensation. Right away I was able to lean more on the car, the reduced body roll gave more confidence to press harder into the corners.
The next session out I added 2 more clicks which improved it further. I think next time I would try adding 2 more clicks as it's a smooth circuit with some tight bends and I like a stiff feel to the car.
As for the circuit, hats off again to MSV who have an excellent standard of marshalling and maintenance. The driving briefing help reinforce the expected standard of driving and conduct on track. All the drivers through the day were excellent, highly courteous with no aggressive pushers or blind hoggers. Pure quality.
I found Snetterton to be such a good track, brilliantly challenging with technical corners involving simultaneous braking and turning that required a very delicate balance to get right to maximise the speed through them. If you have a lower powered car you might find yourself caught in the trap of not being able to pass high power cars, unless they very actively help you through on the straight. The blue Elige had bit of that when coming up to the track spec BMWs, all over them on the corners.
Overall it was an epic, blessed by the weather which was perfectly dry right up to the point of the checkered flag at 5pm when the rain then started. I will definitely be going back to Snetters!
Hopefully I'll see some of you there.