Hi,
Just picked up a 2004 Exige from Jon Seal yesterday. I think this car was owned by a forum member a while back but it's been hard to track down more than a couple of photos and details of its history.
It's Nightfall blue and had the Lotus approved supercharger conversion fitted back in about 2013. It's got a few non-standard parts fitted, from what I can gather from the invoice history and looking over the car:
TD 1.2 alloys (I think - the no logo version)
TRD airbox
engine mount inserts
AP 295mm brake bells and rotors with braided hoses
V6 mirror plinths (I think?)
Baffled oil sump - Eliseparts version I think
Uniball Rear toe links
It had a full suspension refresh in about 2014 too.
Were LED rear lights standard by 2004?
This is the only clean photo I have so far because on the 140 mile drive home through 2 heavy rainstorms it got absolutely filthy.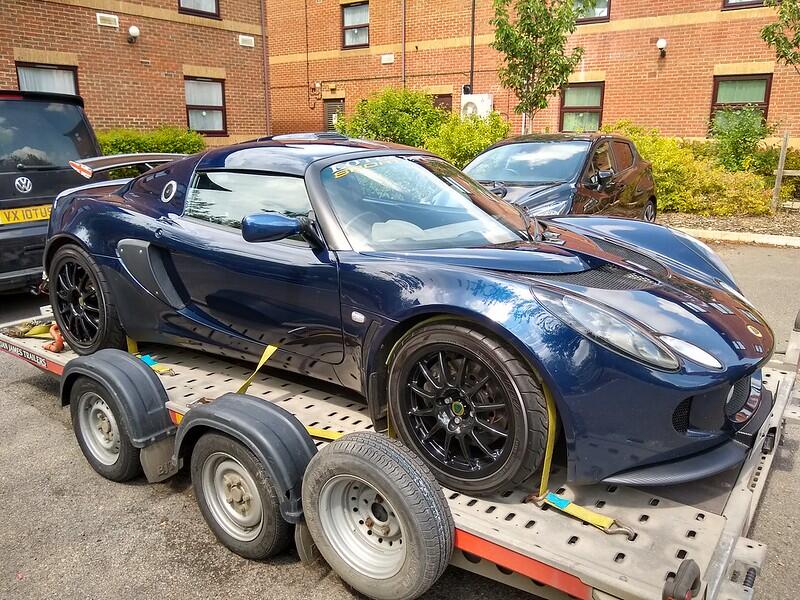 I've had an S1 elise for the past 4 years which I had done a lot of work on so I'm eager to get my hands dirty and stuck in on this car too.
First jobs are going to be changing out the seats and steering wheel and adding a harness bar.
Then I'll be taking off the front clam to see if I can refresh the AC system and get that working (I'll replace the tow post and front rad at the same time).